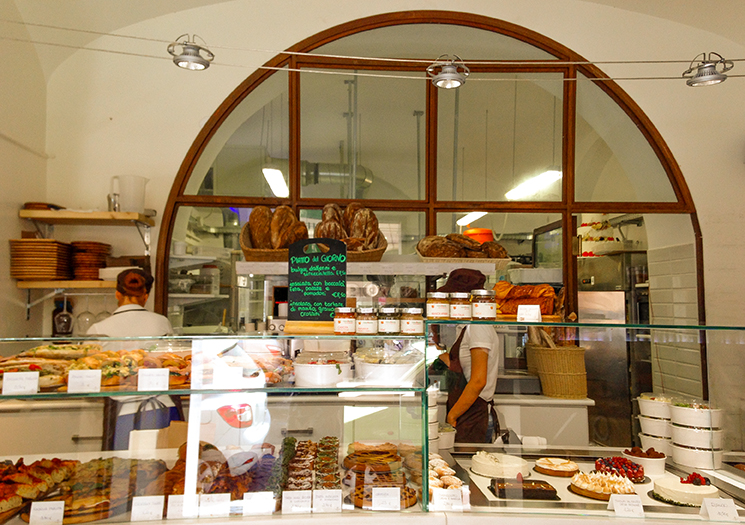 Those who are in search of an authentic bakery in central Rome should try the bakery and patisserie Le Levain, hidden up an unmarked street close to piazza San Cosimato. It's the realm of the chef Giuseppe Solfrizzi who studied at the Ècole Nationale Superiéure de Pâtisserie in Lyon and specialized with the pâtissier-chocolatier Jean-Philippe Darcis in Belgium. The combination of this French expertise, the sourcing of top-quality ingredients and the Southern Italy culinary tradition has resulted in remarkable a variety of breads, cakes and pastries.
Opened in December 2014, Le Levain is a bright, high-ceilinged space where all the specialties are displayed with elegance on a large counter. Behind a glass wall is the large open view kitchen where the staff prepare daily everything fresh.
The dining area is a bit small and seats just a few people around three tables with stools and two counters by the windows. Many customers, myself included, take away the pastries put inside white paper boxes. There is a delivery service, too.
Early in the morning you can see the chefs baking a wide assortment of croissants with different fillings. They are crispy on the outside and soft on the inside thanks to the Pamplie French butter and the double fermentation. You may have a perfect breakfast with one or two croissants and a coffee or cappuccino (served in paper glasses) or an organic fruit juice.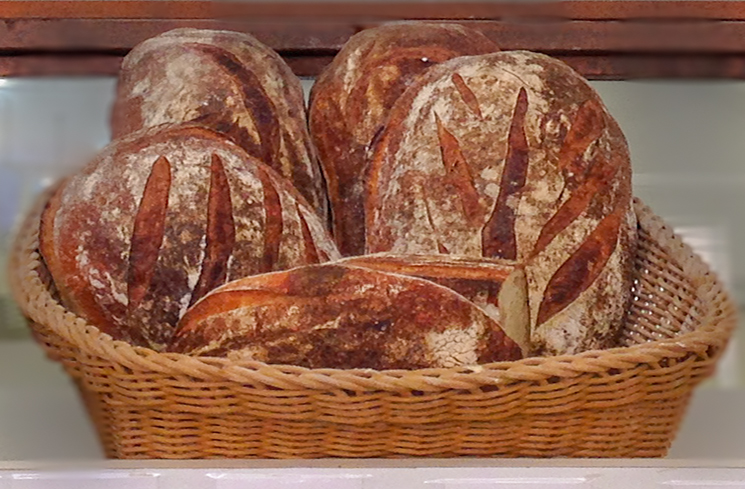 The organic sourdough flours is the main ingredient of their homemade breads and helps maintaining more nutrients and more flavor. The breads assortment includes among others the typical French baguette, the bread with Camembert cheese and apples and the Italian bread with Gaeta olives. A selection of breads is made with a kind of flour which is well tolerated by celiacs.
At lunchtime the baguettes and other breads come with typical fillings like chicken salad or more creative ones like brie and spinaches or mackerel, small artichokes, onions and pistachio cream. Among the best options are also some French specialty like the quiches with salmon, mushrooms and cheese or with jam and cheese and the croque monsieur. Every day the chefs prepare fresh salads, soups and a soft pizza with different toppings.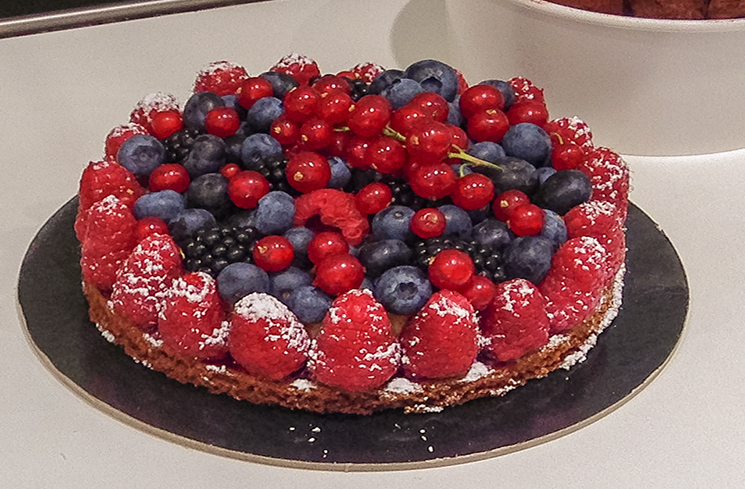 Cakes and mini cakes are on display behind the glass counter. The patisserie features French classics like Tarte tatin (with apricots and custard), Tarte au citron (Lemon cake), Choux with vanilla and caramel, Macarons and Madeleines. You may also find some original chef's creations like Moana, which is a cake with vanilla, red berries, mango and pistachio, or Django, a dark chocolate and raspberry cream cake.
Packaged biscuits that you can buy as small gifts or snacks for home are available on the shelves.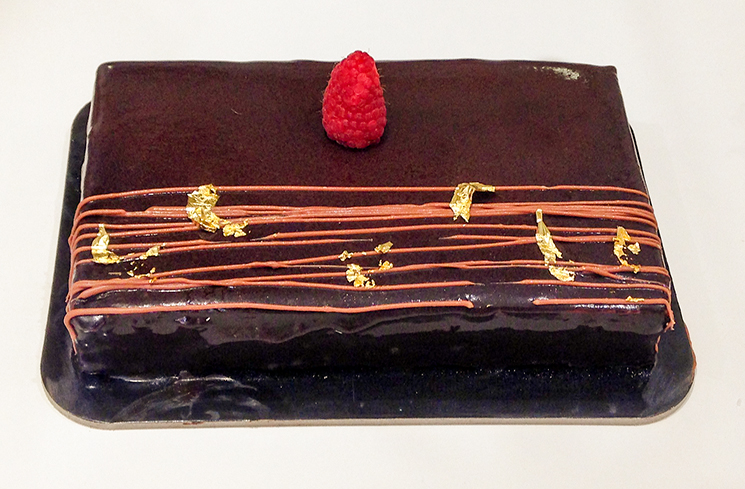 Around breakfast and lunchtime staff members are pretty busy as tourists and locals crowd the space. Yet they are consistently competent and friendly. They take their time and explain different types of bread and pastries.
All their products are maybe a bit pricey, but the affectionate clientele think they are well worth the expense!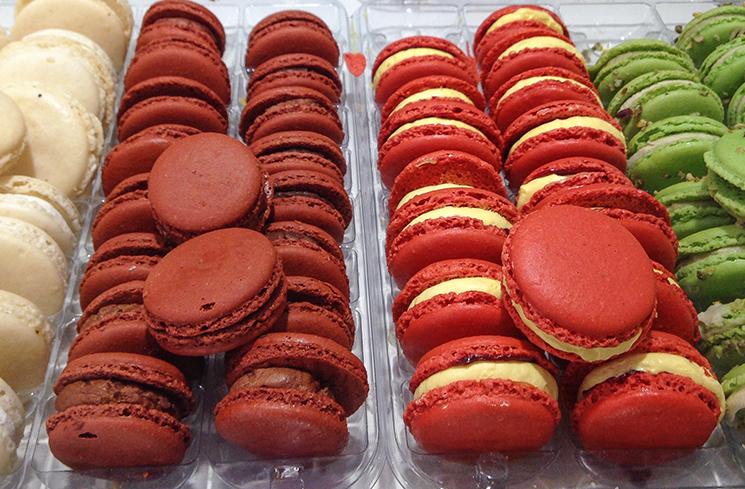 For those who are curious about Italian cuisine's secrets, Le Levain organizes cooking classes: just ask the staff.

Mon-Sat 8am - 8.30pm; Sun 9am - 6.30pm

0664562880

https://www.facebook.com/LeLevainRoma/
Via Luigi Santini 22